Transport
St Osyth has good bus transport links to Clacton and Colchester operated by Hedingham Omnibus and First Essex.
Hedingham Omnibus  operates the No 6 bus route from Clacton to Point Clear which runs every 30 minutes during Monday to Saturday daytimes and hourly on Sundays. The Monday to Saturday evening service will continue to be provided by the 6A and 6B service.  For full timetable click http://www.travelineeastanglia.co.uk/ea/XSLT_SELTT_REQUEST. 
Hedingham also operates the No 1 Summer Route from Clacton to St Osyth Beach.  http://www.travelineeastanglia.co.uk/ea/TTB/EFA01__00003c54_TP.pdf
First UK  operates the No 98 route from Walton on the Naze  to Colchester via Clacton and St Osyth. http://www.travelineeastanglia.co.uk/ea/TTB/EFA01__00004c51_TP.pdf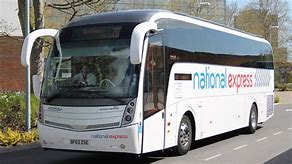 National Express operate a daily service from St Osyth (Kings Arms) to London Stratford (2hrs 30m) and London Victoria (3hrs 30m) which leaves around 8.15 am (later on weekends). Check their website for details and online booking. http://www.travelineeastanglia.co.uk/ea/XSLT_TTB_REQUEST?language=en&command=direct&net=nrc&line=12484&sup=%20&itdLPxx_direction=R&project=y08&outputFormat=0&itdLPxx_displayHeader=false&itdLPxx_sessionID=EFA01_32896788&lineVer=1&itdLPxx_spTr=1&itdLPxx_operatorCodeForTTB=NATX
Goride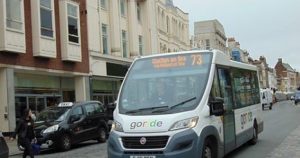 Goride is a community transport service that operates the 73 and 79 services between Clacton, St Osyth (Kings Arms) and Colchester.    They also operate a minibus service between Clacton-St Osyth (Kings Arms)-Brightlingsea. Please click on this link for their timeables.    https://bustimes.org/operators/go-ride-cic
Brightlingsea Foot Ferry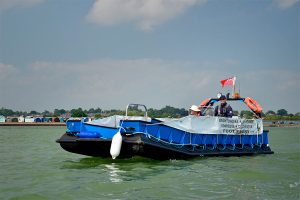 Brightlingsea Foot Ferry Service runs from Point Clear to Brightlingsea and Mersea Island  either on an hourly scheduled service or a dial-up service from 10.00 am to 16.00 pm. Starting April 1st. To book the ferry call 07981 450169 or out side scheduled service the Harbour office on 01206 302200.
For the lastest Ferry Information:           Ferry leaflet 2018
BOAT TRIPS:   http://www.brightlingseaharbour.org/ferry.php